Womanizer
From Thermionic Studios
Damage Control Womanizer: Tube-amplified vintage high gain distortion and preamp pedal. The Womanizer represents something a little bit different from most other distortion pedals. It can also double as its own preamp and be plugged directly into a power amp. If looking to do this, the easiest way is to plug the output from the pedal into the "return" of the effects loop of another amplifier.
The Damage Control Womanizer is no longer being made.
Controls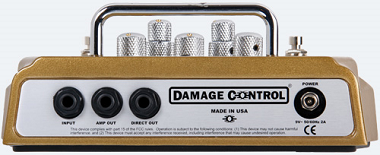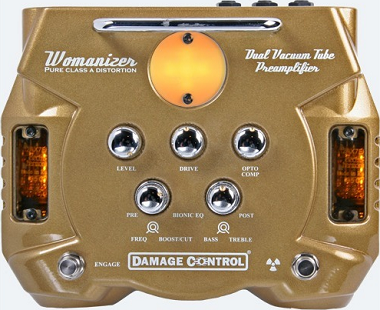 The Womanizer, like all other Damage Control pedals, has 5 control knobs. These controls are as follows:
Knob 1 - "Level": Sets the overall volume level of the pedal
Knob 2 - "Drive": Sets the level of the gain to the tube stage
Knob 3 - "Opto-Comp": Sets amount of analog opto-compression that happens before the tube gain stages.
Stacked Knob 1 - "Pre" (tone controls prior to preamp):

Inner Knob - "Boost/Cut":
Outer Knob - "Freq":

Stacked Knob 2 - "Post" (tone controls after preamp):

Inner Knob - "Treble":
Outer Knob - "Bass":

Footswitch 1 - "Engage":
Footswitch 2 - "Radiation Symbol (Boost)":
Jacks
Jack 1 - "Input":
Jack 2 - "Amp Out":
Jack 3 - "Direct Out":
Jack 4 - "Power":
Bypass:True
The Damage Control Womanizer is true bypass.
General Information
The Womanizer is a distortion pedal and also represents Damage Control's foray into developing a "70s" rock style pre-amp. The Womanizer can be thought of as the inheritor of 70's and 80's hard rock tones.
Pete Celi, in a YouTube video, commented that the Womanizer differed from the makes the Womanizer different from most other current offerings in that the tone controls bleed off "high", "mid", "treble", and "presence" frequencies exclusively, and then once the tone stack volumes are set, then the whole signal is again amplified. Unlike the Demonizer, the Womanizer has no ability for the tone controls to "add" bass, mid, treble, or presence frequencies. We think the subtractive nature of the tone controls has a sonic quality all its own.
There are other aspects of the Womanizer that do not correspond to the Marshall "Model 1959" (Plexi) because those features cannot be emulated in a pedals. For example, there is described a certain "sag" or "sponginess" associated with the 1959's slightly under-spec'ed power transformer. That said, the Womanizer, in our opinion, can serve to get an enthusiastic player 90% of the way to a "1970s" distorted guitar tone. In terms of a tube-driven distortion pedal, the Womanizer is as close as one can get, in our opinion, to the "Brown Sound".
True bypass relay for zero loss bypass signal performance.
Direct output with analog speaker emulation.
Dual 12AX7s run at their full 250V plate voltage.
Pedal Manual
Phase Inversion
Schematic
Direct Recording Features
3 devices in one: tube preamp, direct recording preamp, and tube distortion pedal.
Dual 12AX7 gain section with gorgeous, dynamic class A gain. From subtle blues tone to heavy rock.
Studio quality opto-compressor based on a classic circuit. Dial in your dynamics simply and easily.
Active pre and post EQ sections.
Pre EQ boost/cut with variable frequency control.
Post EQ features active bass control and active treble control.
Advanced all-analog speaker compensation circuit results in the best direct recording tones available with any technology. Developed with extensive analysis of an open back 1×12.
"Magic Eye" display technology responds to playing dynamics.
Rugged, road ready metal knobs and switches.
14dB of additional footswitchable gain via "nuclear" footswitch.
Artists
We are currently unaware of any artists actively using the pedal now, or who have in the past.
---
Additional Sources