Van Nuys: California Amp Show coming October 1st and 2nd
Posted by Zander on

Tuesday, 27 September 2016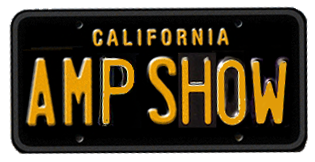 01 Oct 2016 | 10:00am

to

02 Oct 2016 | 06:00pm
Tone monsters unite! This coming Saturday and Sunday in Van Nuys is the 12th LA AMP Show.
Exhibitors and event schedule have been announced for the Twelfth LA AMP Pedal & Custom Guitar Show October 1st & 2nd, from 10am to 6pm each day at the Airtel Plaza Hotel located at 7277 Valjean Ave., Van Nuys, CA 91307. Admission is $20 at the door.
We've been really looking forward to attending this show and seeing what gadgets and amps, and most importantly amplifier tones are being made available - especially the array of tube amps that are going to be displayed. We'll be going around taking pictures and getting comments from vendors and people in the amp community. Here's a list of the vendors that will be displaying:
EXHIBITOR LIST:
Amplified Parts
A.J. Peat Guitars
Asher Guitars
Atomic Amps
Bogner Amps
Carvin Corp.
Celestion Speakers
Chubtone Guitars
Club Amps
Colby Amps
Cusack Effects
CYR Amps
Demeter Amps
Derringer Products
Eisel Amplification
E.W. Electronics
Earthquaker Devices
Electro-Harmonix
Eventide
Fryette Amps
Henning Amplification
Hovercraft Amps
Jennings Guitars
Jensen Speakers
Line 6
Lapdancer Guitars
LSL Instruments
Maudal Musical Machines
Matthews Effects
Mezzabarba Custom Amplification
Milkman Sound
MojoHand
Music Connection
Nace Amps
Park Amps
Redplate Amps
Revv Amps
Rock N Roll Relics
Roland/Boss
Sam Ash
Satellite Amps
Singleton Guitars
Solid Cables
Studio Devil
Surreal Amplification
Tensor Custom Bass Guitars
Thorn Guitars
Todd Sharp Amps
Tone Bakery
Tone-Guard
Ventura Valve Amps
Events
Amp Prizes:
RedPlate Blackline 50 Watt 1x12 combo
Nace Pro-18 Tweed Tolex 1x12 combo
Fender '57 Tweed Custom Deluxe combo
Hovercraft Dwarvenaut 20 watt Mk II head (this is the one we'd want!)
Surreal Cult 45 Amp Head (or a close second would be this one!)
Club Series II & 1x15 cab
Also prizes from: Studio Devil, Tone-Guard, Solid Cables, Jensen, Roland, Celestion, Eventide, and more.
Winners announced at 4:00PM each day in the ballroom. YOU MUST BE PRESENT TO WIN!
SATURDAY 10:30: "Tone Wizards" Myles Rose (Moderator) with Mark Gallo of Studio Devil, Henry Heistand of RedPlate, Reinhold Bogner, James Demeter, Patrick Selfridge of Mercury Magnetics
(This is the one event, if we get to see anything, that we'd really like to attend. Reinhold's comments on The Snorkler would be OUR primary objective... We expect this panel to be the highlight of the show...)
SATURDAY 1:00PM: "Repair Roundtable" Lance Allyn (Moderator) with Fren Asken, Eric Chazz, David Neely, Chelsea Clark
Bring a damaged guitar and it have evaluated!
SUNDAY 11:00: "Player's Paradise" Oscar Jordan (Moderator) with Carl Verheyen, Brian Kahanek, Josh Smith, Nili Brosh, Al Joseph, Warren Hughes
The Ampshow will also be offering Free V-Picks or S.I.T. Strings to the first in line each day...