Misadventures in Sourcing Vintage Electronics Components, Part 1
Posted by Zander on

Thursday, 9 July 2020
Sometimes it's really only possible to recognize an earlier victory that you've captured only after you've put a whole lot more hard work in. Going through this slog was pretty tough. And it was only after starting to go through it that I'd realized the possible mess I'd gotten myself into.
Here's a view of the carnage after the fact (what we'd won):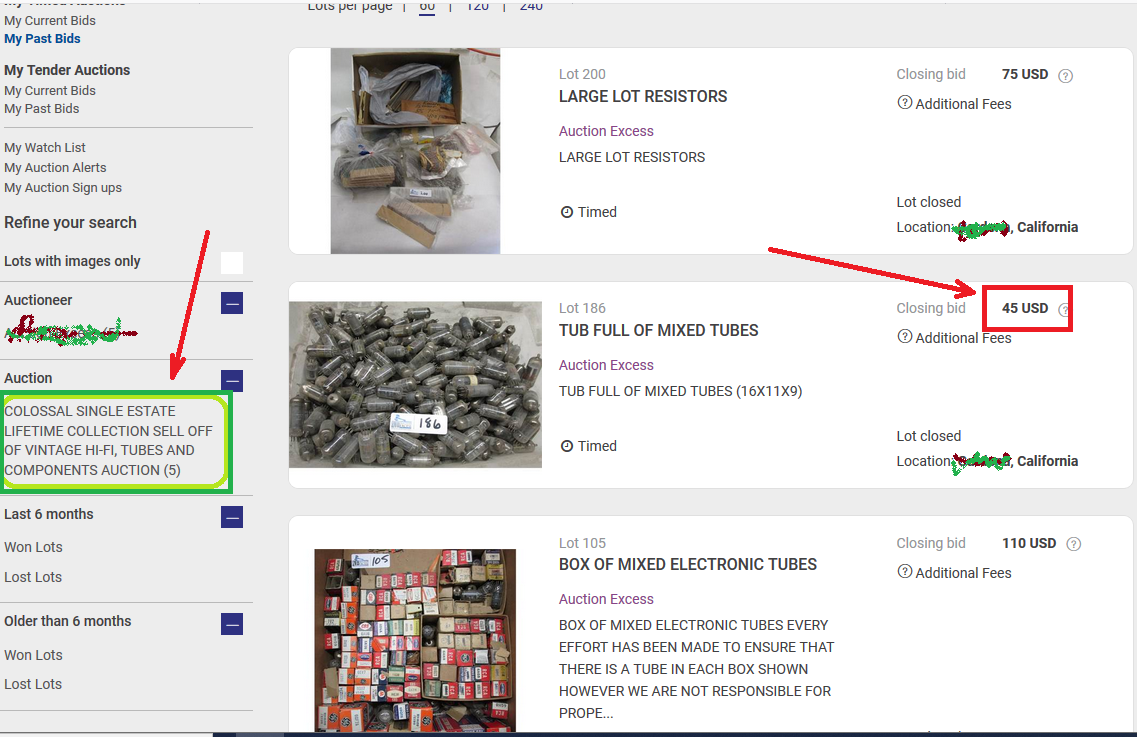 It was an auction site that was new to us, and a slightly new way of bidding, so there was some discomfort, naturally. But the site and the auctioneer also made available something I'd never been able to do before on eBay: Actually go in person, and look at the real, physical items I would be bidding on!
The contact number for the auctioneer was on the site and after calling and leaving a message, I got a call back. Yes! Despite Covid-19, it was entirely possible to go check out all the lots to see everything on offer. It was required though, to make an appointment (between certain hours) and only in a window that was within a couple of days prior to the auction actually happening online.
I had only happened upon this auction site (bidspotter.com) and this particular auction about a week before it went live so wrangling the day job and driving about 10 to 15 miles to view the lots for auction was a little problematic, but not insurmountable. And was that extra bit of effort ever worth it!
It was an old gear-head's estate sale... And yes, what a bunch of junk! Huge piles of worthless old stereos and turntables. Broken art-deco style speaker cabinets with rotting speaker cones inside... There were a couple of old guitar amps from the early 1960s that piqued our interest, but they were not name brands that we (or anyone we knew) were familiar with. Just like the pictures from the auction, it was the boxes of old tubes (mostly 7-pin stuff, useful for old TVs, nothing useful for today's instrument amps or microphone preamps...), and the possibility of vintage resistors that really piqued our interest.
But then I took a second look at the box of reclaimed, gross, filthy tubes that had been stashed away, likely the result of fixing or reclaiming parts from old and broken TVs, stereo consoles, and such. And then I spied something in that bucket of tubes that made all the difference!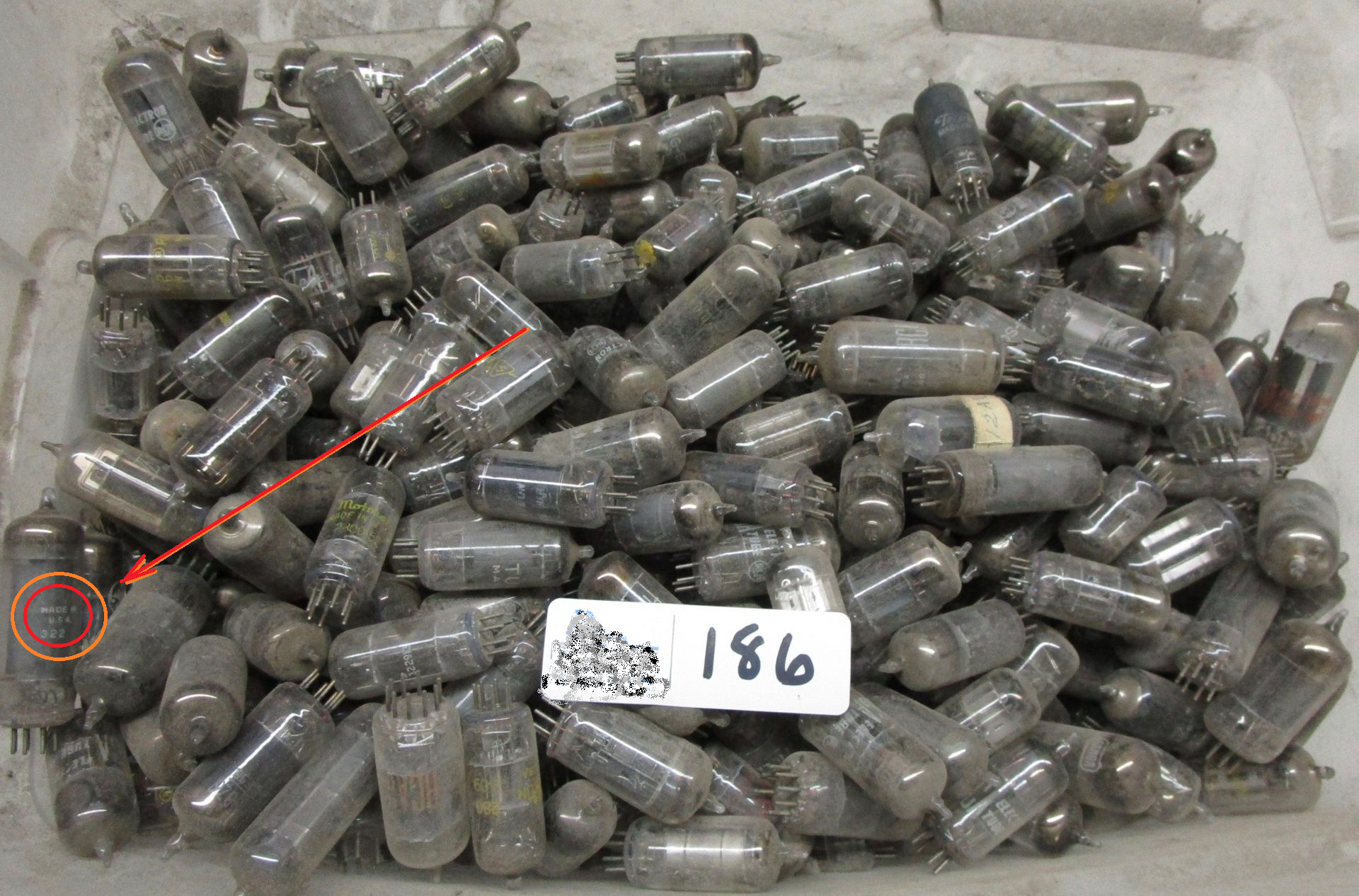 Made in USA!
So now I figured I might have a sleeper win available within reach... I decided I wanted the old resistors. I wanted a couple of lots of the older boxed tubes (within a reasonable price), but this box of spare old, gross, dirty tubes might really be the diamond in the rough that would make all this worthwhile... and I decided that this tub of tubes might be something that would have a lot of unrealized value for a price that would probably be considerably lower than on anything else I would be bidding on. I came to believe that this particular lot is where we would make our money back!
Looking at the auction page, you can see that a mere $45 brought us victory. However, that victory felt very short-lived: not only because the act of picking everything up was rather uneventful (I think I must have created some kind of stupid notion for myself that the heavens would open and that trumpets would sound), but because only upon taking receipt of these tubes, did the sheer level of grime on my "sleeper hit" become crystal clear. There were a number of emotional ups and downs as I processed these tubes, but the first meaningful emotional high came upon discovering that there were a goodly number of 9-pin tubes! 12AX7s! 12AU7s! 12AY7s! 12AT7s! Made in USA! There were about 25 of these in the lot!
Then the job of cleaning EVERYTHING came up... a moist rag, another plastic bucket to put the cleaned tubes into, and suddenly...
WOOHOO! Another great find! 6AQB tubes! I can use those too! Made in USA!
---
...But then the sheer labor of cleaning, individually by hand, almost 800 tubes finally began to set in...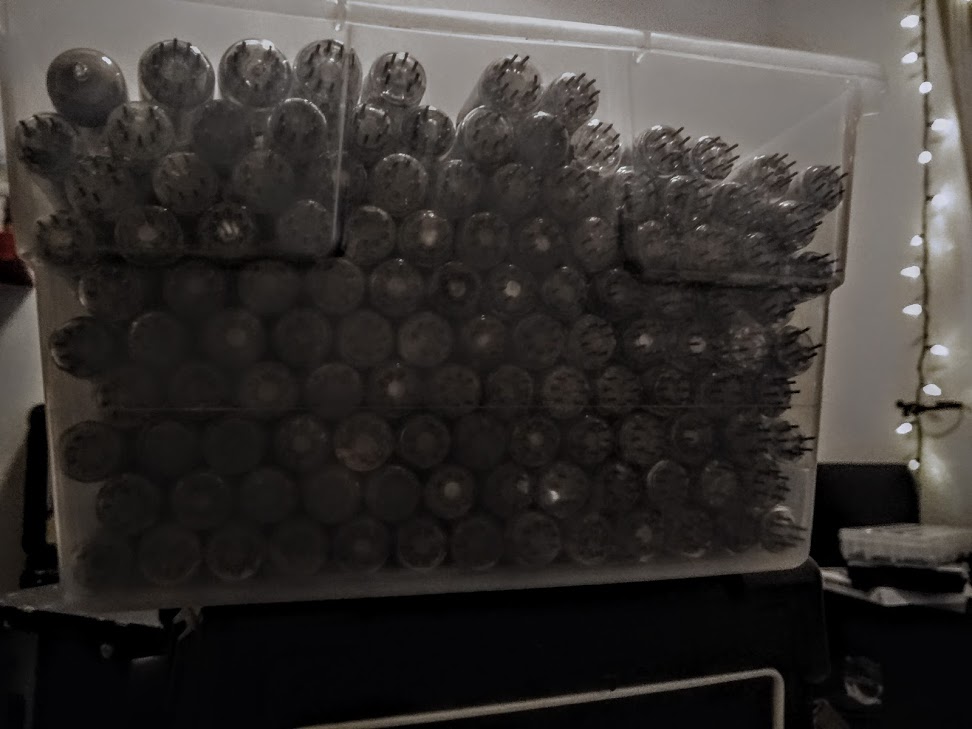 ...And did it ever set in...
"Christ. This sucks."
What sucked so badly was that in just about every instance, the dust and grime had to be taken off very carefully. Swabbing one of these old tubes with something as soft as a moist terry washcloth was still taking off all the old original branding paint. I lost many "Sylvania", "GE Electronics", "Tele-Tone", "RCA", "Motorola", "Westinghouse", and "Made in USA" labels. Yes, there were more, but you likely get the idea. It took over a week, spending what seemed 5 hours a day, attempting to gingerly take off dust while trying not to wipe away the branding marks, and in many cases failing. The level of care required meant a level of effort that I didn't originally think would be required.
And, mind you, this effort was only to clean the tubes...
But after all the effort, this buy was definitely a "worth it" and this auction victory should be able to support a number of projects. I had to throw away about 15 tubes that had cracked or were broken or crushed but for the vast majority of the tubes? They appear to be fine. The getters (the silvery stuff inside the tube) are all still silvery indicating that the vacuum hasn't been breached, and nominally, these tubes are still good. There were maybe 5 tubes with bad getters, and they went into the trash without a second thought.
We're not out of the woods though. With many of the markings removed, we'll also have to identify each tube, where the markings have rubbed off, for type (an effort that will undoubtedly take a long time and will likely be the source material for another article here). Then we'll have to label them correctly so that we can test them. We'll test to identify the good ones and trash the bad ones, of course. Once all of that is done, finally, we'll be able to pack them into boxes and warehouse them for eventual use in projects.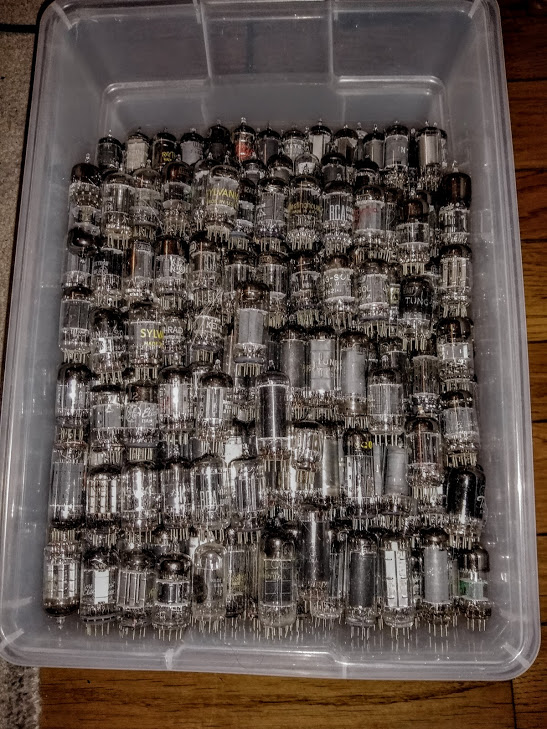 Given the conditions of the getters and the lack of darkened patches or burn marks, I don't expect a "bad tube" or loss rate higher than 20% to 25% or so after testing is completed. Of course, I could be totally wrong, but then why would these tubes have been saved by our old gear-head if they were all bad? I'm betting they're not bad. I'm betting they're mostly good. If so, that's a lot of tubes that can go back into circulation! The only big problem is the preponderance of 7-pin tubes. We're currently thinking of a way to use them. Perhaps we can repurpose these tubes by designing and building some microphone preamps and make them available for Vintage Microphone DIY kits? We'll have to see...
Article End
---
Article Images: